Do you ever worry about where your child, spouse, or employee has been? Or feel uncomfortable when someone won't let you peek at their phone screen? Tracking phone activity can give you peace of mind – and even save a relationship.
In this blog post, we will break down the ways how to track messages and calls from another phone – so that you can covertly keep tabs on those closest to you. Let's dive in!
Track Someone Phone Calls and Messages via Spy Apps
We won't keep the cherry on top secret any longer – the best way to track messages and calls from another phone is by using a spy app. They can be installed in minutes without the target ever knowing they are being monitored.
Let's look at the top 5 spy apps that can help you track someone else's phone calls and messages.
mSpy
mSpy is the most advanced app of the bunch, giving you access to all calls, texts, and other communication from the target device. There's practically no activity that mSpy can't monitor, making it the perfect choice to track messages and calls from another phone. You can:
Monitor any messages sent or received from the target device.
Track all incoming and outgoing calls, including duration and contact info.
See attachments such as photos, videos, and links.
Stealth Mode wraps it all up by hiding the app from being discovered. With mSpy, you can keep an eye on things without anyone else knowing.
How to Install mSpy
Installing mSpy is easy. Here's how to track someone phone calls and messages:
Step 1: Create Your Account
Head to the mSpy website and create an account. This account will be used to access all of your monitoring data.
Step 2: Set Up mSpy
Follow the instructions attached to the email you receive after registration, and the app will be set up in minutes.
Step 3: Start Monitoring
Once the installation is complete, log into your mSpy account and track the device in real time!
What Else Can I Monitor with mSpy?
While mSpy is a powerful tool for tracking calls and messages, it's far from one-dimensional. The app offers 36+ features designed to give you a complete picture of the target device's activity. The most popular ones are:
GPS Tracking. View someone else's location in real-time to see where they are and where they have been.
Social Media Tracking. Monitor Facebook, Snapchat, WhatsApp, and more to ensure they are being used responsibly. Read chats, check posts, and see who they are talking to.
Keylogger. Keep tabs on everything typed into the other person's device with an invisible keystroke recorder. Track messages and calls, even if they're deleted
Internet Usage Tracking. Monitor their web browsing history to know what sites they visit and how often. You can even control which sites can be accessed on the target device.
Screen Recorder. mSpy automatically records everything that is happening on the target device's screen. You'll see it first-hand whether they are playing games or texting someone.
Email & Calendar Monitoring. All emails and calendar activities can be tracked with mSpy. You'll know who they are communicating with and what they discuss in their emails.
Media Viewer. With mSpy, you can also view photos, videos, and other media files stored on the target device.
Eyezy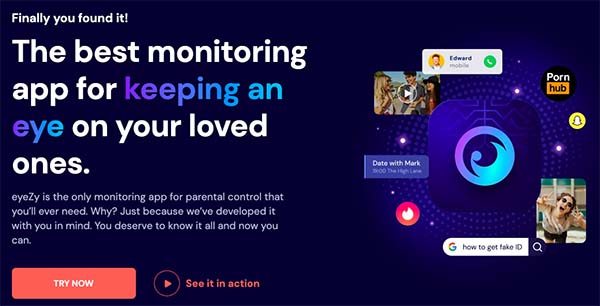 Next on our list is Eyezy, another remarkable tool for those pondering how to receive calls and texts from another phone. Eyezy stands out from the crowd with its comprehensive suite of features designed to inform you about all activity on the target device.
For instance, Eyezy can alert you when a specific number or word is typed in. This feature is particularly useful if you're looking out for communication with certain individuals or about specific topics. Another key feature is its ability to recover deleted messages.
But that's not all. Eyezy is proficient in monitoring calls and texts across all instant messengers and social media apps used on the target device. It's compatible with Android and iOS, so it's perfect for tracking calls and texts from various devices.
MobiPast
If you're wondering how to track my wife's phone calls and texts for free, consider Mobipast. This app stands out for its exceptional, easy-to-use interface. Even the least tech-savvy individuals can navigate through its features without any difficulties, making it an ideal choice for a wide range of users.
But MobiPast's appeal doesn't end with its user-friendly design. The app is loaded with powerful tracking capabilities that make it a top choice for monitoring another phone's calls and texts. You get real-time updates on new messages and calls and can even access deleted conversations.
Spybubble
Spybubble makes monitoring phone calls and text messages a breeze. You need only several minutes to set up the app and start monitoring. During installation, you'll get detailed instructions that will help you easily complete the process.
What sets Spybubble apart is the level of detail it provides. This app doesn't just show you the messages and calls; it presents a comprehensive picture, including information on the contact's phone number, time and date of call/message, and more.
Phonsee 
Phonsee is an incredible tool for tracking calls and messages from another phone. It goes beyond just providing access to messages and calls, allowing you to thoroughly analyze the collected information and gain better insights into the target device's usage patterns.
Phonsee identifies the most contacted numbers and provides detailed information on each call and message. The data analysis goes beyond communication tracking, providing information on app usage and browsing history. Phonsee also offers AI-based alerts.
Other Ways How to Track Calls and Texts From Another Phone
While spy apps make tracking cell phone calls and texts from another device a breeze, there are other ways to do it as well. Depending on your needs, one of these methods may fit better.
Contact Network Providers
If you're wondering how to get calls and messages from another phone, contacting your network provider is a reliable method to consider. Most telecom companies, including Verizon, keep detailed records of all calls and texts from the devices registered on their networks.
You can request these records, although it's worth noting that the specifics of what can be obtained and how vary from provider to provider. Remember that you might not read the content of messages; some providers only provide information regarding when and to whom they were sent.
Additionally, the network provider might also charge you for these records. It's best to ask ahead what their policies are in order to avoid any unexpected charges.
Hire a Professional Hacker
If you're looking to track messages and calls, hire a professional hacker. While this option may not be the first to come to mind due to concerns about legality and privacy, it is worth noting that there are ethical hackers out there who operate within the bounds of the law.
These professionals can help you track calls and texts, retrieve deleted messages, and even access encrypted data. However, it's crucial to ensure that any such measures are undertaken with the full consent of the other party involved to avoid crossing any legal lines.
Check Others' Cell Phones Secretly
Checking others' cell phones secretly is a less technical approach to tracking calls and messages. It involves physically accessing the target device when the owner isn't around to check the call log, messages, and other relevant data.
While this method may yield immediate results, it's not the most reliable option. There's always the risk of being caught, which could lead to mistrust and strained relationships. Additionally, you might not be able to access certain data, depending on the level of security enabled on the device.
What Are the Reasons for Tracking Calls and Messages
Ever thought about the idea of monitoring phone calls and text messages? It's not just for spies and secret agents! This technology has some very real and relatable uses in our daily lives. Let's take a closer look at why it might be more relevant to you than you think.
Parental Control: In an age where digital threats are increasingly common, it's crucial for parents to keep an eye on their children's online activities. Phone trackers can help ensure your child is not engaging in risky behavior or communicating with dangerous individuals.
Employee Monitoring: For businesses, it's important to ensure employees use company phones responsibly. Tracking calls and messages can help identify misuse of company resources, protect sensitive information, and ensure productivity.↳
Lost or Stolen Phones: If your phone is lost or stolen, a phone tracker can help you locate it. This feature can also provide valuable evidence if you must report the theft to law enforcement.
Relationship Issues: If you're worried about infidelity in a relationship, tracking calls and messages can provide clarity and peace of mind. It's essential, however, to respect privacy and use this technology responsibly.↳
Elderly Care: If you have elderly family members who might get lost, tracking their phone calls and messages can help ensure their safety and well-being.
FAQ
How can I track phone calls from another phone?
You can use a variety of applications that are available online. Some popular options include Eyezy, MobiPast, and mSpy. These apps let you track messages and calls, access browsing history, and even track real-time GPS locations. The best part is that you need a web browser to access the data. Just log in to the control panel and start tracking.
Is there an app to track phone calls and text messages for free?
Several apps offer free services for tracking calls and messages. However, most of these apps have limitations in their free versions. For instance, the amount of data that can be tracked might be limited, or you may not get access to all features. Choose a paid app such as mSpy, Spybubble, or Eyezy to gain full access and maximum benefit.
How to track my wife's phone calls and texts for free?
You can always try to contact your network provider for detailed records of calls and messages made from the target device. You can also check the phone physically when she isn't around. We should warn you, though, that it's easy to get caught. To minimize risks, use a reliable spy app that offers Stealth Mode. This way, your wife won't be able to detect it.
Can I Track Someone even if they Blocked my number?
Yes, monitoring phone calls and text messages, even if they have blocked your number. Spy apps work independently from the phone's regular settings and can still monitor incoming and outgoing messages, even if they've put your number on the block list.
Conclusion
Understanding how to track messages and calls from another phone can provide many benefits, from ensuring the safety of loved ones to maintaining productivity in a business environment.
While there are various methods available, from contacting network providers to employing ethical hackers, using a reliable spy app is typically the most effective, secure, and user-friendly option. Choose one of the top 5 best tools to track calls and messages from another phone today, and take the first step towards peace of mind.
How to Track Calls and Texts From Another Phone